Nature Guides and Field Guides
Welcome to NatureScanner.nl's webshop. Naturescanner.nl is the number 1 Nature Travel website of the Netherlands. In this webshop we offer Field Guides that we found on one of our trips to Central America. The Field Guides - published by Rainforest Publications and Waterford Press - are an absolute must-have!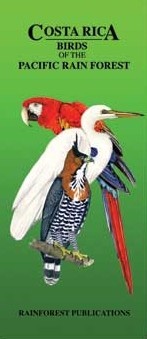 What is a pocket Field Guide?
Field guides are illustrated nature guides, which you can easily keep in your pocket during walks, hikes or nature tours. The pocket guides contain a summary of all mammals, birds, fishes, insects, flowers or plants found in a certain country or region. The guides are easy to use fold out guides and perfect to identify flora and fauna found on your travel destination. The illustrations in the guide make it easy to recognize birds, flowers and animals. With a pencil or marker you can check the species that you have seen. Since the field guides are laminated, you don't have to worry about them getting wet or dirty during an excursion, boat trip, kayak tour or a walk in the rainforest.
Online nature guides
It is possible to buy some of these nature guides in local stores during your travels, but if you want to make sure you get the most out of your travel to experiences, get yourself a guide beforehand. The guides are light and easy to bring in your carry-on luggage or handbag. Our field guides and nature guides are almost all in English (and Spanish) and we can deliver across the world. Please contact us if you have any questions or remarks.
Bats

Field guide of bats | Waterford Press

€ 9,45

World flags

Fold out pocket guide with all country flags of the World | Waterford Press

€ 9,95

Middle East Wildlife

Field guide and introduction to familiar and dangerous wildlife species of the Middle East | Duraguide

Nature guide wildlife speciesWhich animals live in Jordan, Israel, Oman, Iran and Saoudi Arabia? Are there any dangerous…

€ 9,95